There is much media coverage of the current shortfall in electricity network capacity available to support new housing developments in some West London boroughs. It has been prompted by the Greater London Authority (GLA) writing to several developers to gather feedback on the scale of the constraints developers are facing in trying to source economically viable quotes for new connections.
Most homes and businesses across the UK are connected to the electricity network via the wires and cables owned and operated by electricity Distribution Network Operators (DNOs) or Independent Distribution Network Operators (IDNOs). These companies in turn take connections from the transmission network owned and operated by National Grid (NG). The circumstances behind the media coverage relate to developers who have applied to the DNO, in most instances SSEN, only to be advised that they will face significant charges and timescales of up to 10 years, as National Grid will have to upgrade their network to make the capacity available. The GLA are suggesting they have been told any project requiring capacity over 1MVA 'will have to wait several years to receive new electricity connections'. Both SSEN and NG are looking for potential solutions to the issue.
What is behind this lack of electricity capacity?
The answer here is relatively straightforward. Firstly, there has been a boom in Data Centres along the M4 corridor as operators seek to utilise the fibreoptic networks prevalent in this area. Each centre can have a significant power demand. Secondly, and of no surprise to anyone, is the boom in low carbon technologies being adopted across society, whether in new housing schemes or as a retrofit on refurbishment or upgrade schemes. So, as we transition away from gas fired boilers as the primary heat source on new build and provide facilities for electric vehicle charging in most new homes, the demand on the electricity network increases greatly.
Why does it take years to make grid capacity available?
The transmission network is a complex piece of critical national infrastructure. Designing and planning work, and then procuring specialist materials and resources to undertake works, is a long-term exercise. On top of that, you can't simply switch bits of the network off to undertake work. Work has to be planned and scheduled often years in advance to safely maintain supplies whilst any network upgrade is underway.
Which areas are affected by this lack of capacity?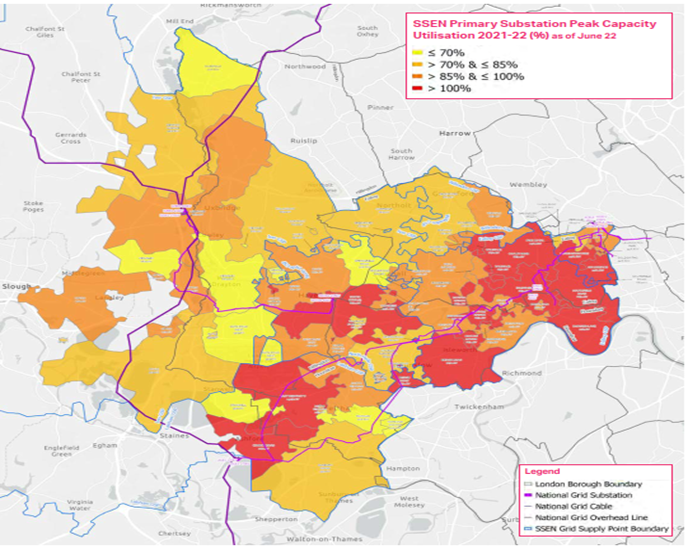 One important caveat, we are aware of the similar constraints on projects well outside of the GLA area of interest. Do not be lulled into thinking it is only a West London issue.
This capacity crisis is more widespread, and we can see many projects facing extensive delays, or land transactions overvaluing land due to the lack of knowledge of electricity network capacity constraints.
What can be done to mitigate and how can Premier Energy help?
We are a utility consultancy with a successful track record of delivering for Clients over 27 years. Whilst there is no silver bullet solution to hand for the electricity capacity crisis, there are ways in which we can help you understand and assess the risk on your future projects. Our Site Investigation service is market leading and whatever your project size, from a small infill development to a new garden village, this service will identify constraints and provide clarity on the likely costs and timescales surrounding new utility connections. We offer reliable independent advice and pride ourselves on delivering excellent service. Our Site Investigation service is specifically targeted at Land Buyers, Planners and Developers and our team of experts are always on hand to help.
As part of our Site Investigation service, we will:
Work with you to develop comprehensive utility connection requirements for your project
Make capacity and budget cost applications to the host DNO
Undertake a comprehensive records search
Issue a comprehensive report detailing the constraints presented by existing utility infrastructure, including whether diversions are required, or exclusion zones exist
Provide cost estimates for the utility works required including disconnections, diversions, and new connections
Utility electricity connection jargon
Distribution Network Operator (DNO) – a licensed electricity network operator limited to a defined geographic area
Independent Network Operator (IDNO) – a licensed electricity network operator not constrained to a geographic area
Independent Connection Provider (ICP) – an organisation accredited to install electricity connections
Point of Connection (PoC) – the point where a new connection is made to an existing electricity network to serve a new development
National Electricity Registration Scheme (NERS) – the accreditation scheme administered by Lloyd's Register for electricity installers
Contact one of our experts for more information about our Site Investigation service.