This is the third update on probably the most important utility issue facing many developers across the country, namely the shortfall in electricity network capacity. As one of the leading independent utility consultancies we are seeing the daily impact on development schemes, with multiple projects now being offered connection dates up to 2037.
All new homes and businesses across the UK require a connection to an electricity network. The majority connect to a local electricity owned and operated by electricity Distribution Network Operators (DNO's) or Independent Distribution Network Operators (IDNO's). These distribution network companies in turn connect to the transmission network owned and operated by National Grid Electricity Transmission (NGET).
What is behind this lack of electricity capacity?
Firstly, there has been exponential growth in Data Centres, particularly in strategic locations such as the M4 corridor, where good fibre optic connectivity is available making it an ideal location for a new data facility. A Data Centre is energy intensive, and the electricity capacity required can exceed that of a large town. Secondly, the focus on low carbon technologies such as batteries, wind and solar farms and the transition to electricity as a source of heating in new housing schemes, along with the electrification of transport, have all increased the demand on electricity network associated with new developments.
Is the situation improving?
Sadly not, the graphic below shows the transmission network headroom (available capacity) in West London year on year.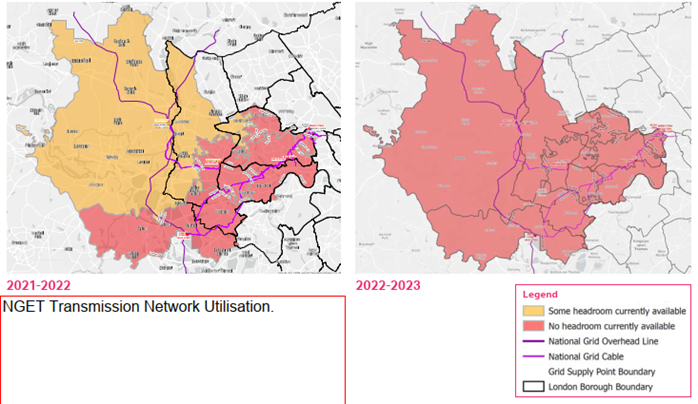 A new language?
One consequence of the electricity capacity crisis is the new terminology and jargon becoming commonplace in communications which can be confusing to customers. Some of the terms becoming commonplace are;
Contracted Capacity – the electricity capacity available, and established under contract, to the connected customer.
Flexible connection – an electricity connection where the demand can be reduced at times of 'Peak' network demand.
'in Use' capacity – the maximum electricity capacity used by customers, based on meter readings.
Interactivity – the process used by network companies to manage the applicant queue when more than one customer requires connection to a common point on the electricity network. Once a connection offer (a quote) becomes interactive the timescales and acceptance periods change.
Non-firm connection – a type of connection where the customer does not require continuous supply. For example, a Battery Storage System.
Point of Connection (PoC) – the point where a new connection is made to an existing electricity network to serve a new development.
Ramped Connection – an electricity connection where the electricity capacity is made available over a period of years in 1MVA steps.
How can Premier Energy help?
We are an independent utility consultancy with a successful track record of delivering for Clients since 1995. Whilst there is no silver bullet solution to the electricity capacity crisis, we can help you understand and assess the risk on your projects.
Contact one of our experts for more information about our Consultancy services.