We are proud to provide our clients with cutting edge, underground, intelligent utility searching. We feel there are three main factors that contribute to this; our unique approach, our excellent quality, and our compliance with health and safety.
---
Unique:
Our utility search reports are available at a variety of different levels and speeds.
We start with our entry-level product which is the Prime report, delivering the main utility information. This can be upgraded with a Prime Top-Up to achieve compliance.
Next is our Premier report, providing utility information from 40 plus companies in and around your search area.
Our most advanced search is the Premier Plus report which goes that extra mile, giving guidance on utility constraints and possible costs to divert or relocate utility assets. We can provide this because of our 23 years' in business as Utility Consultants
Finally, our Premier Asset Layered Map (PALM) is a pioneering, unique product from Premier Energy. It transposes all utility information onto a multi-layered interactive map in an easy to use format.
Our searches products come in a variety of speeds, from 24 hours to 20 days, depending on the different needs you may have as a client.
Furthermore, what also makes our reports unique is our approach to disbursements. We provide upfront, flexible, transparent pricing, giving you the option to include or not include the lower risk and expensive fibre disbursements in a utility search.
Quality:
At Premier Energy we ensure our service is high quality by firstly ensuring we cover all independent utility providers. By including these independent utilities in the report it ensures your search is more complete.
We use an intelligent searching method
Cover all independent utility providers
Quality assurance by adding a highlighted site boundary line
Easy to read reports with our RAG rating, enabling you to quickly pinpoint areas of concern
A full set of records in a complete report
This ensures you have a complete report for issuing to your supply chain or contractors.
Compliance:
Embedded in Premier Energy's values is the need to comply with Health and Safety efficiently and with the up-most importance. Our Prime Top-Up, Premier, Premier Plus and PALM are all fully PAS 128* Quality Level D and HSG47 compliant. The regulations we follow ensure that our services are delivered to a recognised level of accuracy.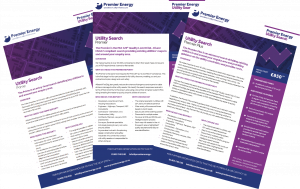 To compare our Utility Searches click here