What happened during UK lockdown?
According to information published by the Energy Networks Association there has been a welcome reduction in third party damage to buried electricity cables. This is in part due to the UK lockdown impacting construction sites with excavations limited and overall activity decreased. As you would expect less excavation = less cable strikes.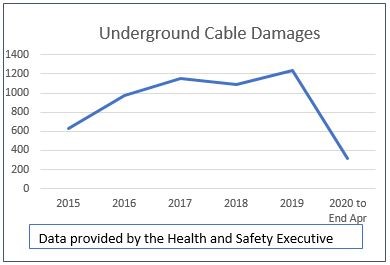 Now that COVID19 restrictions are easing and groundworks activity is picking up it is important to remind everyone of the critical safety measures required when planning or undertaking works to avoid utility strikes. Hitting utility infrastructure not only causes costly damage and disruption to residents, it can cause serious injury or death.
It's a good time to remind you and your team of our Top Tips when working with underground utility infrastructure.
Top Tips for planning work and excavating near underground services:
Always obtain PAS 128 Level D set of utility plans when planning work and/or before breaking ground. When excavating or digging on-site you will need to know the location of any utility equipment and a comprehensive set of records is the start. Understanding what is on your site will reduce the risk of equipment damage and injury, and will allow you to put in the correct safety measures and manage risk. 
Using the records as the basis, commission a PAS 128 underground utility detection survey. Our PAS 128 Survey blog explains the various levels, what they are and when they are needed. For example, if a HV cable is present on the utility plans sourced under point 1 above, then a PAS 128 Level B survey should be undertaken to accurately locate the route and depth of the cable.
When excavating follow Health and Safety Guide No. 47 (HSG47) to avoid danger from underground services. Our HSG47 blog explains this guidance in full, but in summary it provides information on how to prevent utility strikes. The guidance covers identifying and managing the dangers, planning the work, locating, identifying & marking underground services and safe excavation.
Always remember that not all underground utilities are managed by the incumbent GDNs and DNOs. When getting utility plans/reports for your site make sure the Independent Gas Transporters and Independent Distribution Network Operators who own and operate significant infrastructure across the country have also been checked.
Consider the optimal methods of breaking ground, this can't be a simple case of economics and must take account of the risk. The preferred method when excavating near existing utility apparatus is hand digging. Vacuum excavation is a method that could be used however it can be expensive, and you need to have the right soil conditions.
Always assume underground equipment is LIVE and in service. If you have received no formal confirmation of disconnection or isolation from the asset owner/operator, then assume it is LIVE and keep away. Always contact the Asset Owner to determine the status of the apparatus.
Premier Energy has been around for over 25 years, working on small housing developments, large mixed-used city centre developments and large infrastructure projects. We have developed a network of contacts and have unparalleled knowledge and experience of the utility industry. Our utility search and constraints reports are comprehensive, and we use our experience to assess the utility risks and present the information in a user-friendly and accessible way.
How can Premier Energy keep you and your team safe when excavating on-site?
We can identify and assess utility constraints early on in any project. We recommend a comprehensive Premier Search as the first step, backed up by a Utility Assessment or Site Investigation Report with commentary by our experienced team.
Our suite of utility searches offers a comprehensive initial risk screen of the existing utility infrastructure including electric, water, drainage, gas, telecom, communication, tunnel and pipeline companies.
We make enquiries to over 40 utility companies as well as covering the Independent Gas Transporters and Independent Distribution Network Operators, which are often overlooked.
Our Premier Utility Search Report is a PAS 128 Quality Level D and HSG47compliant, providing existing utilities' maps in and around your enquiry area. This is essential in the safety critical process as it gives full utility location and identification, enabling you to plan, design and work safely.
Learn more about Premier Energy and how we can help you with your project!
Sources: https://www.energynetworks.org/ and https://www.utilitystrikeavoidancegroup.org/